Air Conditioning Brisbane Southside
Your local aircon installation specialists in Brisbane south
Want to upgrade your old air conditioner or install a new unit to keep your family or employees cool through summer and warm in winter? The experienced team at Hanson Electrical can help. Our electricians offer professional split system air conditioning installation services for homes and businesses throughout Brisbane's southside suburbs. We specialise in finding the perfect climate control solution for your specific requirements ensuring a long lasting, energy efficient result every time.
Book Air Conditioner Installation Today
Complete air conditioning installation services
Our electrical team is committed to providing customers with a top quality air conditioner from a proven, leading brand regardless of the space they want to cool and heat. We can find practical aircon options for everything from a small bedroom to a large open plan living area.
Split system style air conditioners are versatile and can be installed almost anywhere from the granny flat to a multi-storey apartment building. These units vary in size and can also be installed as a multi-head system which uses one outdoor unit to operate up to 6 indoor units, saving money and space.
Split system air conditioner size guide
Factors such as room size, insulation, number of windows, floor coverings, and ceiling height all need to be considered when choosing the right air conditioner for your space. It is crucial to get the sizing right as a unit which is too small will have to work overtime to keep the room comfortable using excess power, and a system which is too big will potentially waste energy over cooling or heating your property.
For a custom recommendation on the ideal air conditioning system for your needs speak to the Hanson Electrical team today.
Please note that this table is to be used as a general guide and not an official size. You will need to talk to your supplier as the size requirement can change based on ceiling height and windows as well as type of walls (eg. Brick, Plasterboard, Concrete etc).
Air conditioner supply and installation
Hanson Electrical has a range of MHIAA air conditioner supply and installation deals from a small 2.0kW to a large 9.5kW unit. Take a look at our air conditioner deals here - Split System Air Conditioner Supply & Install Deals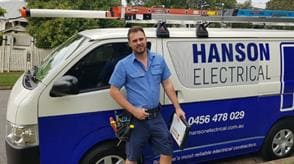 Professional aircon installation Brisbane southside
Hanson Electrical offers the installation of top quality, energy efficient split system air conditioning systems across Brisbane's Southside. For prompt professional service from an aircon specialist contact Hanson at 0456 478 029 or complete our quick online Air Conditioning Enquiry Form today.
Can't see your suburb?
Not to worry, give us a call on 0456 478 029 or fill in a Air Conditioning Enquiry Form and one of our friendly staff will get back to you as soon as possible.
We can help with your Air Conditioning issues in Brisbane South.