Panasonic Air Conditioning Brisbane
Looking for Panasonic split system air conditioner?
Is your old aircon not cooling your home efficiently? Or is it time to upgrade your split system air conditioner? It can be difficult to find the right system considering the number of brands available in the market. That's why the air conditioning specialists at Hanson Electrical, try to make the process easy for you by recommending the best products for your home.
With features like nanoeX air purification technology, non-corrosive unit and durability, Panasonic is among one of the best air conditioning brands in Australia. Hanson Electric offers complete Panasonic air conditioning installation throughout Brisbane. Request an obligation free quote for a new Panasonic aircon today.
BOOK PANASONIC AIRCON INSTALLATION
Panasonic Split System Air Conditioning
Split systems offered by Panasonic come in a range of sizes from 2.5kW to 8KW. We are the authorised Panasonic dealers so we can assist you with product selection, supply and installation of the split system AC range . Talk to our air conditioning specialists today and we can figure out the right aircon for your needs.
Panasonic offers different products like:
Cooling only wall mounted split system - Comes with an anti-bacterial filter to eliminate airborne contaminants
Reverse Cycle Wall Mounted Split System - Highly energy-efficient, offers WiFi and voice control
Reverse Cycle, Air purification Split system - Some of the features of this range are nanoeX air purification technology, DRED, WiFi and voice control, anti-corrosive outdoor unit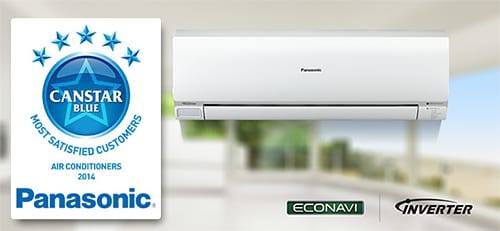 Why choose Panasonic Air Conditioners?
Reliable - Panasonic air conditioners are made to withstand the harsh Australian weather and come with a 5-year warranty.
Expertise - Panasonic has been in business since 1958 and has evolved as a world-renowned brand delivering premium air conditioning solutions.
Purified Air - Panasonic split systems carry the blue butterfly symbol. The systems utilise the nanoeX air sterilisation technology to inhibit the growth of bacteria, viruses, allergens, pollen and mould to prevent asthma and other respiratory issues. This improves the indoor air quality in your home ensuring you breathe clean air.

Panasonic Air Conditioning Experts Brisbane
For any expert advice and installation services for the range of Panasonic Air Conditioners, give us a call on 0456 478 029 or complete our online Panasonic air conditioner installation booking form.
AIR CONDITIONING FAQ
For more in depth air conditioning information visit our Air conditioning Information page