Surge Protection
Do I need surge protection?
With constantly advancing technology and sensitive electronics in almost every appliance, it is now highly recommended to have your house protected from the possibility of an electrical surge. Appliances in your house that could suffer damage from a surge range from air conditioners, TVs, modems, computers, even fridges, ovens and washing machines.
Hanson Electrical Brisbane electricians can help protect your home or business from surge damage. Book a service visit today.
Protect your electrical systems today
What is an electrical surge?
Electrical surges occur when the flow of electricity is interrupted, then started again. Surges can also occur when something sends electricity flowing back into the system. Surges can range from five or ten volts from you turning on your hair dryer to thousands of volts from lightning striking a transformer.
Did you know: More than half of household surges are internal and they happen dozens of times of day. Refrigerators and air conditioners are the biggest culprits, but even smaller devices such as hair dryers, power tools and vacuums can also cause problems.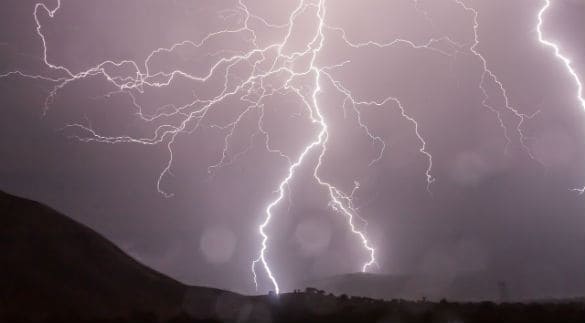 Lightning strike electrical surges
There are normally two types of surges from a lightning strike that cause damage to your home or business.
Direct strikes: Is where lightning strikes either a building or a cable that goes into the building and the energy from the strike finding its way to earth either through the building or through equipment inside the building. Although not very common these are the most damaging your home or business.
Indirect strikes: Is where lightning strikes an object and the energy from the strike induces into the cables within a certain distance from the strike point. The induced surge then travels down the cable finding its way to earth. This is more devastating as it isn't as obvious as a direct strike to the building.
Why choose Hanson Electrical?
At Hanson Electrical we base our business on customer satisfaction, repeat clients and referrals. That's why we take our customer service so seriously. Our Service Guarantee is put in place to give you, the customer, the peace of mind to know that you are always going to be looked after.
Our service guarantee
We're here when you need us. If for some reason we could not answer your call, please leave a short message and your call will be returned in less than half an hour.
We love being on time. But sometimes surprises to pop up, so if we ever are late, we will take $50 off the quoted price of the job.
The electrical safety of your property is always our top priority.
We use top quality products and electrical components so you get a long lasting solution.
Our team clean up after every job.
The electrical work we carry out complies with all relevant industry, state and Australian standards
Plus all of our work is backed by a limited lifetime warranty.
Your local electrical safety specialists
Protect your home or business electrical systems and appliances with a surge protector fitted by the experienced electrical team at Hanson. Contact our team at 0456 478 029 or complete our online electrician booking form today.
ELECTRICIAN FAQ
For more in depth electrician information visit our Electrician Information page